Reading Update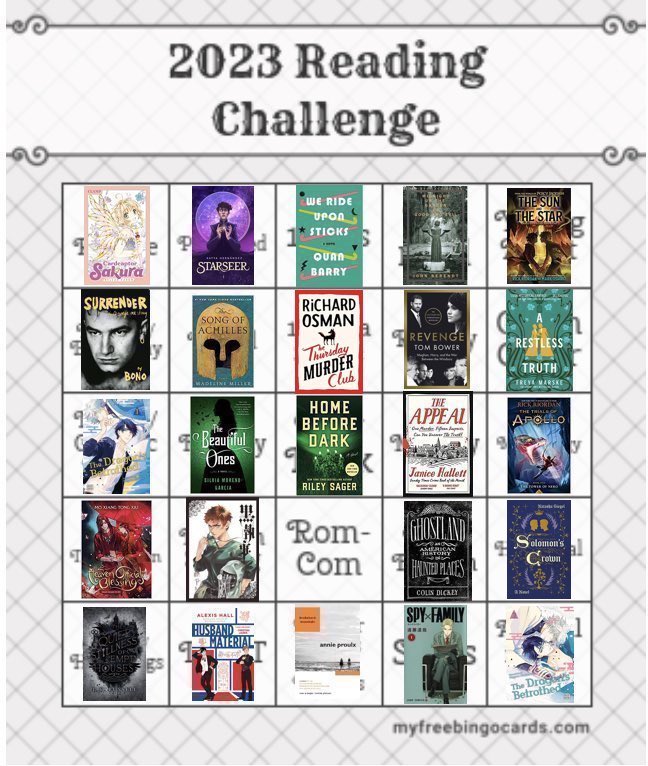 So close! I am so close to completing my reading bingo board for 2023! I just need a rom-com and I'm done! Luckily, I went to the library today and grabbed Spoiler Alert by Olivia Dade, which has been on my list (see below) for a while now. Glad to finally have a chance to read it.
My Goodreads challenge for the year is 40 books and I'm at 29. (Not all are represented on the bingo board because not all the books fit the prompts.) I have a manga coming next week that will put me at 30, which means I'm on track.
I've had a few DNFs, the most recent of which I discuss in my latest YouTube video. I also talk about I'm Glad My Mom Died and the movie Theater Camp. Please go check that out.
Sadly, I can't say I'm doing as well with my 12-book challenge. I've read four and, as you can see, I've got Spoiler Alert on deck, so I'll likely make it to five out of the 12. Alas, my re-read of Queen of the Damned stalled out, and I couldn't get into Razorblade Tears (though I may try it again at a later date). As for the remaining five… I don't know. I've had some mental and emotional setbacks recently, and I want to lose myself in books, but the book world is the source of my pain, so it's kind of difficult right now. I feel like I'm walking in a mine field.
I also have a tall physical TBR stack. (If you're on my Insta or Bluesky, you've seen it.) So it's easier to grab one of those than any of these, none of which I currently have, and most of which my library won't have either.
Speaking of social media, I'll be largely absent from X (Twitter) and probably slightly more present on Bluesky, but I can't say how present. I'm taking things day by day, so if you want to reach me, Bluesky might work, YouTube definitely will because I'm on there way more than I should be. Meanwhile, I'm also trying to blog here more regularly, so comments are always welcome, and I'll be around to respond to them if you leave any.